Young Eagles Program free to area youth
August 20th, 2012 by Ric Hanson
Youth ages 10-15 will have the opportunity to take to the sky Saturday, Sept.8th,  and learn about aviation and get a free orientation flight at the Fly Iowa Aviation Youth Rally.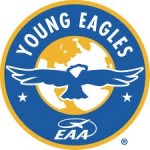 According to committee chair Brenda Nelson, the Young Eagles program exposes youth to the field of aviation. Sessions will be given on careers, airplanes, aerodynamics, airports and navigation.
Nelson says "The program is meant to get kids excited about aviation." And, with the air show the Saturday after the program, she says they "Hope all the kids will attend both and really get a feel for what's out there for opportunities for them in their future."
Nelson said the seats are limited to 45, and registration is required on a first come, first served basis. The event is free and includes the workshop, flight, pizza luncheon and t-shirt. Students will also be invited to attend the Atlantic Fly Iowa Air Show Sept. 15th to get a certificate of completion for the Young Eagles Youth Rally.
"The Fly Iowa event is such an awesome opportunity to bring some out of this world experiences into the community," according to Nelson. She says "It would be a shame to miss it and we want the kids especially to take advantage through the youth rally and air show event."
For more information contact the Atlantic Area Chamber of Commerce at 712.243.3017 or email chamber@atlanticiowa.com.