Page Co. Sheriff warns of Wal-Mart text message scam
June 27th, 2012 by Ric Hanson
The Page County Sheriff's Office has issued an alert about a possible text messaging scam. Sheriff Lyle Palmer said his office received information of a possible text messaging scam that occurred to a resident in Page County.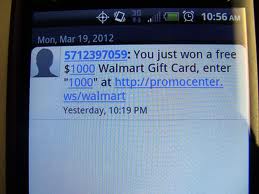 The resident received a text message from a number they didn't recognize, 1-617-671-5276.  The text message stated that they were Iowa's winner of the day and directed them to go to a website, http://www.wallmart.com.totalgiveawaymadness.com to claim their $1,000.00 prize.  It also stated that they must claim their prize within 24 hrs. 
The resident called1800walmart (1-800-925-6278), selected the customer (2) service, and the prompt advised that there had been a recent rash of text messages. The Wal-Mart phone service also advised that Wal-Mart doesn't send text messages.  It also advised to call the Federal Trade Commission (F.T.C.) and gave the phone number of the F.T.C.  The resident did not fall for the message, but looked into it and found that it was most than likely a scam to get information from them that could be used to compromise their identity and or financial holdings. 
Sheriff Palmer warned no information should ever be given to someone that contacts you with regard to personal or financial information.  With today's technology he says, it is a lot easier to be "scammed" than ever before.  Palmer added that "More than ever, the old phrase 'if it sounds too good to be true, it probably is' should be taken to heart."