'The Shipping 20' Claim $241 Million Powerball Jackpot
June 20th, 2012 by Jim Field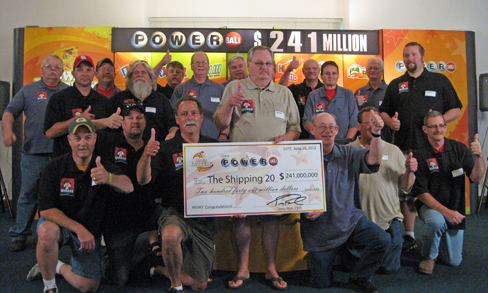 DES MOINES, Iowa – A group of 20 co-workers from the shipping department at a Cedar Rapids cereal plant stepped forward Wednesday to claim a $241 million Powerball jackpot, the largest lottery prize won to date in Iowa.
The group laughed that they had the worst-kept secret in the state, as word of their win in the June 13 Powerball drawing had spread like wildfire — first through the Quaker Oats Co. plant in downtown Cedar Rapids where they worked and then nearly as quickly through the community.
Al, 61, buys the tickets for the group and said he had just recently planned to tell a neighbor the good news, only to learn that the neighbor already knew.
"So, yeah, it's the worst-kept secret, I guess," he said.
The group, which formed a trust calling itself The Shipping 20, chose to receive the jackpot as the lump-sum option of $160.3 million. Members of The Shipping 20 said they have played Powerball together for years, with each person chipping in $5 for tickets, but only when the jackpot was $100 million or higher. Each member of the group – 18 men and two women – each will receive about $8 million ($5.6 million after withholding taxes).
Lawyers for the group stated that the members of The Shipping 20 want their individual names to remain confidential and intend to request an injunction to that effect, which is allowed under Iowa's Open Records law. The lottery believes the names are public and should be disclosed, but understanding the specifics of the law, the lottery has agreed to give the group 10 business days to seek an injunction.
The group's winning ticket is the seventh overall in Iowa to win Powerball's big prize.
Members of the group range in age from 35 to 64 and all live in and around Cedar Rapids. All are long-time employees of the Quaker Oats plant and are members of Local 110 of the Retail, Wholesale and Department Store Union/United Food and Commercial Workers International Union. On the job, they ship out boxes of Quaker Oats cereal from the plant. At least 11 members of the group said they would retire after winning the prize.
Al, who bought the group's tickets, said he has worked at the plant for nearly 30 years and plans to keep working until Sept. 1.
"I feel bad for Quaker. It's a busy time of year so it's going to be hard on the guys who are there, so I kind of feel sorry for them," he said. "I'll stick around as much as I can."
Three other group members also shared their plans:
Denise, 52, has worked at the plant for nearly 34 years, and said The Shipping 20 has a combined seniority of 686 years at Quaker Oats. "I'm just such in a fog, it's hard to describe everything," she said. "I'm shaking. It's hard to wrap your head around." Denise said she planned to use her winnings to help her adult children. She said her husband also is a member of the group and his last day at the plant is Friday.
Kelly, 54, has worked at the plant for 36 years and said he hasn't decided whether he'll retire. He was the group member who first realized they had won. Kelly said he saw the winning numbers on the lottery website the morning after the drawing and then had to check them several more times before he could believe it. Then he started yelling for his co-workers. Kelly said he is thankful that the big win can make a positive difference for Cedar Rapids, which suffered such huge losses in widespread flooding four years ago. "We're in a position now as a group to work together somehow to make this a positive thing," he said. "This is positive all around."
Mike, 55, said he initially was deluged with text messages from family and friends. "I just went in shock," he said. "But I made it through!" He has worked at the plant for nearly 35 years, plans to keep working and will take some time before he makes any big decisions. "I think it makes my kids be debt-free and that was my main goal," he said.
For this particular drawing, Al bought their tickets at Hy-Vee, 5050 Edgewood Road in Cedar Rapids. One of those tickets beat the odds to win the jackpot.
Hy-Vee will receive a $10,000 bonus from the Iowa Lottery for selling the jackpot-winning ticket and store officials said the money will be shared on that front as well. Store Director Jamie Franck said that because Hy-Vee is an employee-owned company, workers at the store will see some of the store's bonus in their own bonus checks.
"That money will go back to our employees," Franck said. "That goes straight to our bottom line, back to their bonus checks. So they'll reap in those rewards."
The winning numbers in the June 13 Powerball drawing were: 7-10-14-33-57 and Powerball 18. The Shipping 20's ticket matched all six numbers drawn to win the jackpot.
Powerball jackpot winners can choose to receive the big prize in annuitized payments over time or as a one-time, lump-sum payment. The $241 million prize is the 15th-largest Powerball jackpot won to date.
Iowa Lottery players now have won seven Powerball jackpots. The six previous winners are:
Tim and Kellie Guderian of Fort Dodge, who were Iowa's biggest lottery winners when they claimed a $200.8 million jackpot in October 2006.
Hugh Hawkins of Des Moines, who won a $113.2 million jackpot in December 2005.
Jacquelyn Moore of Omaha, Neb., who won a $14.4 million jackpot in October 2004 (she bought her ticket at a convenience store in Carter Lake in western Iowa).
The Larry Hasken family of Sabula, who claimed a $31.8 million jackpot in January 2000.
Tim Schultz of Des Moines, who won a $28 million jackpot in February 1999.
Ed Brown of Washington, who split a $10.4 million jackpot with a Missouri woman in December 1992.