Lunch in the Park with Southwest 8
May 7th, 2012 by Ric Hanson
May is Older Americans Month, a perfect opportunity to show your appreciation for older adults in your community.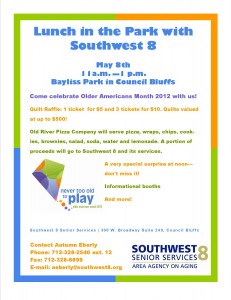 On Tuesday, May 8th, from 11 a.m. until 1 p.m., Southwest 8 Senior Services will host Lunch in the Park at Bayliss Park in Council Bluffs. Lunch will feature pizza, sandwich wraps, desserts, drinks and other food items. A portion of the proceeds will go to support Southwest 8 and the work it does for area seniors. 
A quilt raffle will be held, titled "Quilt-a-Quarter." Tickets for the raffle cost $5 for one or $10 for three. A drawing will be held every quarter (every three months) for a quilt valued at up to $500. There will also be a special surprise at noon, featuring local seniors.  In addition, Southwest 8 will have informational booths for anybody looking for more information for themselves or aging loved ones.  
The theme for Older Americans Month 2012—Never Too Old to Play!—puts a spotlight on the important role older adults play in sharing their experience, wisdom, and understanding, and passing on that knowledge to other generations in a variety of significant ways. This year's celebrations will recognize the value that older adults continue to bring to our communities through spirited participation in social and faith groups, service organizations, and other activities. Southwest 8 Senior Services is joining in the national celebration of Older Americans Month 2012 with activities and events to promote intergenerational engagement and recreation. We invite you to join in the fun! To find out how you can support Older Americans Month 2012 and take part in intergenerational play, contact Autumn Eberly at 712-328-2540 extension 12 or at aeberly@southwest8.org.