Dedication Ceremony for American Legion Monument
May 1st, 2012 by Ric Hanson
The American Legion of Iowa family will host a dedication ceremony commemorating the Legion monument at the Iowa Veterans Cemetery, a project which has been in the works for nearly two years. The ceremony will take place on Saturday, May 5th, 2012, at 2 p.m. at the Iowa Veterans Cemetery in Van Meter, Iowa. The public is invited and encouraged to attend. 
Guests and speakers include The American Legion National Vice Commander Milton Heifner (Woodward, Iowa); Department (State) Commander Dennis J. Soppe (West Union, Iowa); and, Iowa Department of Veterans Affairs Executive Director Jodi Tymeson (BG, Ret). Department (State) Vice Commander Theodore Hall will be the Master of Ceremonies and served as chairman of the committee responsible for fund-raising and design of the monument.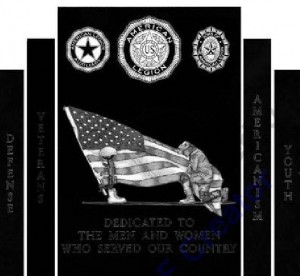 The cost of the project, nearly $12,000 was raised through donations and raffles held at American Legion events between 2010 and 2012, giving its members the opportunity to be part of a great tribute to veterans from all branches of service. The funds included construction, placement, and the required 10% fee for ongoing maintenance and upkeep by IVC groundskeepers. 
The monument was designed by West Union High School senior, Sara Biver, who will also be present at the dedication ceremony.