"Click it or ticket" mobilization effort begins Monday
May 20th, 2012 by Ric Hanson
If you were traveling on Interstate 80 in western Iowa this (Sunday) afternoon, you noticed a heavy presence of State Troopers, many of them in unmarked vehicles. That was just a prelude to a national "Click it or Ticket" seat belt enforcement mobilization which officially begins Monday (May 21st).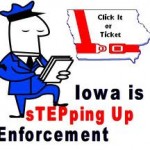 In Iowa, city, county and state law enforcement officers are teaming up with highway safety advocates across the country, to help save more lives by enforcing seat belt laws around the clock.
National Highway Traffic Safety Administration (NHTSA) data shows in 2010, 61-percent of the 10, 647 passenger vehicle occupants killed in crashes which occurred between 6-p.m. and 6-a.m., were not wearing their seat belts. The daytime, unbelted traffic fatality rate is 42-percent. In 2011, there were 360 motorists killed in crashes on Iowa's roadways. And, while that was a 66-year low, 115 of those deaths involved vehicle occupants who were not wearing their seat belts.  Iowa's mandatory seat belt law has been in effect for nearly 26-years.
This year's "Click it or Ticket" enforcement effort runs May 21st through June 3rd.