17 Iowa schools take part in kids' gardening pilot
May 12th, 2012 by Ric Hanson
Officials with what's called the People's Garden school pilot project toured 17 locations across Iowa this week, where schoolhouse gardens are being created as a way to improve nutrition and tackle childhood obesity.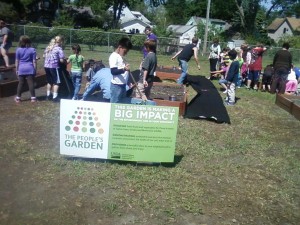 One stop was the garden at Sunset Heights Elementary School in Webster City. Janet Toering, with the Iowa State University Extension, complimented the students' efforts and says there are multiple goals. Toering says, "We're looking at increasing fruit and vegetable consumption, more physical activities, getting kids outdoors, increasing their STEM skills — science, technology, engineering and math — in the classrooms with lessons, outdoors with gardening and healthy snacks."
Students in three other states are taking part in the pilot project: Washington, New York and Arkansas. The eventual goal is to go nationwide with the program. Brad Gaolach is director of the Washington State University Extension Service, based in Tacoma. Gaolach says he likes what he's seeing in Iowa. "We've got raised beds planted and stuff growing so it's looking like a great start to this pilot project," Gaolach says. "As I've seen in other schools, clearly it looks like the teachers and the principals and everybody's very engaged in this program." 
A total of three-thousand Iowa elementary students are participating in the school garden project. Several southwest Iowa area schools taking also taking part in the project, including the following rural districts: Lenox Community School District in Taylor County; the Afton/East Union District in Union County; Mt. Ayr Community Schools in Ringgold County. And, among the "urban" districts taking part in the program is: Walnut Grove (Council Bluffs), West Pottawattamie County; and Rue (Council Bluffs), in t Pottawattamie County.
Learn more at: "www.extension.iastate.edu/growinginthegarden"
(Radio Iowa/Matt Kelley)