MONTGOMERY CO. EMERGENCY MGMT. ASKS FOR STORM DAMAGE INFO.
April 15th, 2012 by Ric Hanson
Montgomery County Emergency Management Coordinator Brian Hamman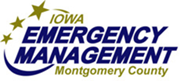 is asking residents of the County who may have damage resulting from Saturday's storm, to call his office so that the damage can be documented. Hamman said Sunday afternoon that at that time, he was only aware of a few rural Montgomery County residences that sustained damage to barns, out buildings, trees, and homes. If your property has sustained damage in Montgomery County, call Brian Hamman at712-623-3749, and leave a message.