King announces campaign co-chairs
April 30th, 2012 by Ric Hanson
Western Iowa Republican Congressman Steve King, today (Monday) announced that his campaign for re-election in Iowa's 4th Congressional District has over 550 county co-chairs. The organization covers all 39 counties making up the district. King's organization reaches all 39 counties that make up Iowa's 4th Congressional District, including counties not previously represented by the Congressman from Kiron.
According to King's campaign, his grassroots organization is believed to be one of the largest in Iowa's history.  His campaign co-chairs include those located in: Audubon, Carroll, Crawford, Greene, Harrison, Monona, Sac, and Shelby Counties.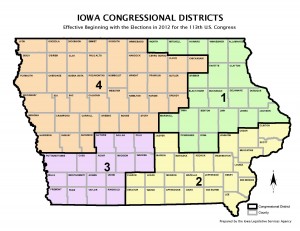 Congressman Steve King is running for re-election in Iowa's new 4th Congressional District, which does not include any counties south of Interstate 80. Those counties, along with Guthrie, Dallas and Polk, were included in the newly reorganized 3rd Congressional District, following the results of the 2010 Census.