Atlantic Kiwanis Club receives donation for bike helmet safety program
April 9th, 2012 by Ric Hanson
The Atlantic Kiwanis Club recently received a donation toward their bicycle helmet safety program.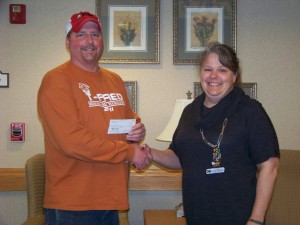 The $200 donation was presented to the Kiwanis' Kellie Jimmerson, from Darrin Petty, representative of the Trevor Frederickson Memorial Fund. 
The program, now in its 16th year, began when Kiwanian Steve Green learned of a discount program offered by Bell Helmets. After receiving approval from the company, Green sought the support of former Washington Elementary Principal, Gail Casey, and former Atlantic Police Chief, Roger Muri, and with their backing, the program was launched.  
The Atlantic Kiwanis Club, one of 10,000 groups that participate in the Bell Helmet program, was the second organization to start giving the helmets away. It is currently the longest running participant in the nation, having distributed approximately 1920 helmets to Atlantic 3rd grade students to date. 
Green credits the Washington Elementary administration, Atlantic Police Department, and Nishna Valley Trails members for their parts in the program's success. Darrin Petty said the recent donation was the Fund's third annual such donation to the program, noting Trevor's class would have been the second to receive the helmets. For more information about the Fund's donations and fundraising efforts, "like" the Trevor Frederickson Memorial Fund on Facebook.