Boots to Heels Conference Scheduled for March 24th in Atlantic
March 1st, 2012 by Ric Hanson
Women in Southwest Iowa are invited to a day of fun, learning and friendship during the sixth annual Boots to Heels Conference on Saturday, March 24th.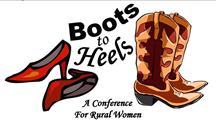 The conference runs from 8:00 am to 3:00 pm at the Cass County Community Center in Atlantic. The lineup of speakers scheduled for the one-day conference will focus on the interests of women living and working in rural Iowa.
The conference will start off with a keynote address on "Finding Happiness in the Craziness of Life" by Kathy Petersen. Kathy and her husband run a 5th generation farming operation near Storm Lake, Iowa. Kathy speaks and conducts training sessions all over the U-S through her company, Peopleworks, Inc. Throughout the day, conference participants will be able to select from twelve unique topics during four workshop sessions. Break-out topics include Home Organization, Farm Succession Planning, Wind Energy, Food Preservation, Interior Decorating and more.
Each presenter has a wealth of knowledge in their respective field and will provide practical tips based on first-hand experience. Conference attendees will be treated to snacks, a breakfast, lunch and  special dessert, served by locally-owned businesses. Lunchtime entertainment is being provided by the Patchwork Pals. In addition, there will be door prizes, time for conversation and networking.
Registration for the entire day, which includes a continental breakfast, lunch, dessert and materials, is just $30 if postmarked by March 16th. Registrations postmarked after that date are $35. A special "bring a friend" rate of $55 for two registrations is also available if postmarked by the 16th. Registration forms are available at local ISU Extension offices or may be printed off at www.extension.iastate.edu/cass.
See the schedule of events here: http://www.extension.iastate.edu/NR/rdonlyres/D1EEFECF-F465-45BD-8DC5-C852E153FA99/165430/WebFliertopost1.pdf