Emergency Preparedness Conference set for next week in Atlantic
February 29th, 2012 by Ric Hanson
Cass County Emergency Management Coordinator Mike Kennon says a conference being held next week will bring officials from across southwest Iowa to Atlantic.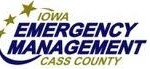 The Region 4 Preparedness Conference, which takes place March 6th and 7th at the Cass County Community Center, is being held to build and sustain partnerships among disciplines, meet training and workshop requirements, and identify specific needs, issues and solutions to challenges faced by those who deal with emergency situations. That includes Public Health, Hospital, Emergency Management, Fire, EMS, and Law Enforcement officials, the National Guard, Elected Officials and State Partners.

Kennon says the 1st day involves a training and exercise planning workshop for Counties, a working lunch, and a training and exercise planning workshop for regional partners. The second day will feature various presentations and a panel discussion from people in Missouri who had to deal with a devastating tornado. He says representatives with the National Guard will speak about their capabilities in responding to an emergency, and, officials from Joplin, Missouri will speak about their experiences, challenges and hurdles, following last year's killer tornado. The Joplin panel includes those associated with law enforcement, fire, EMS, elected officials, and others. Meals provided during the conference are free. 
To register, go to www.safeguardiowa.org, click on the "events tab" and then look for the registration link.