Stabbing incident reported in Red Oak
January 29th, 2012 by Ric Hanson
Police in Red Oak are investigating a stabbing incident which occurred late Saturday night. According to authorities, the incident happened in an apartment located on North 8th Street. Officials say when the first officers arrived on the scene, they found that 49-year-old Patrick James Colebank, of Red Oak, had suffered a stab wound to his upper left arm.
Upon further investigation, officers determined 25-year-old Kathi Lehman, of Red Oak,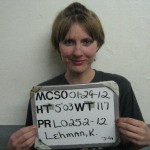 was allegedly involved in a confrontation with Colebank. The confrontation escalated into a stabbing incident. Colebank was transported by Red Oak Rescue to the Montgomery County Memorial Hospital, and later flown by helicpter to Creighton University Medical Center in Omaha.
Lehman was taken into custody for attempted murder, and child endangerment.  She's being held in the Montgomery County Jail on $25,000 bond. The couple's children, ages one and two, were inside the apartment at the time the incident took place. They're currently staying with their maternal grandmother.
The incident remains under investigation.  Red Oak Police officers were assisted at the scene by deputies with the Montgomery County Sheriff's Office, and, Red Oak Rescue.