Drake receives "Friend of the Family Farmer" legislator award
December 6th, 2011 by Ric Hanson
The Iowa Farmers Union says Representative Jack Drake, from Griswold, was awarded the 2011 "Friend of the Family Farmer Legislator Award," during the organization's Annual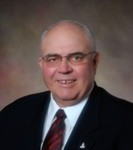 Convention held over the weekend, in Ames. Drake, who represents House District 57, serves as chair of the House Agriculture Committee. He's served in the Iowa House of Representatives since 1992. 
As the chair of the Agriculture and Natural Resources Appropriation Subcommittee, the IFU says he was instrumental in ensuring the structure and funding was present for the Local Food and Farm Plan.  The groups says Drake's knowledge of the need for expanded agricultural markets in Iowa aided tremendously in the passage of the bill's language. Iowa Farmers Union President Chris Petersen said at the convention "The Iowa Farmers Union is proud to honor Representative Jack Drake's contribution to Iowa's rural communities and promotion of a healthier local food system this year."
Nearly 100 Iowans gathered for the event, which was co-sponsored by Iowa State University's Sustainable Agriculture Student Association. They discussed the state and federal policies that affect farm operations and rural communities.  The awards ceremony recognized nine individuals who have demonstrated extraordinary efforts in support of family farms, local food and the growth of sustainable agriculture in Iowa over the past year.