Creston man arrested Friday morning on multiple charges, including ID theft
November 19th, 2011 by Ric Hanson
Police in the Taylor County community of Lenox reported Friday evening, a Creston man was arrested shortly after 1-a.m. Friday, on multiple charges stemming from his alleged Failure to Yield to an Emergency Vehicle. Officials say 24-year old Antonio Gutierres, of Creston, faces felony Forgery and Identity theft charges, along with citations for Failure to have a driver's license, failure to have insurance, and eluding.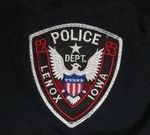 The events leading up to Gutierres' arrest began when Lenox Police were notified of a medical call at Village Park Apartments at 12:55-a.m., Friday. While responding, the officer activated his emergency lights in an attempt to safely pass a car on County Road J-13. The car refused to yield to the police Vehicle. The ambulance arrived at the scene with adequate personnel.
The officer then determined he should attempt to stop the vehicle he had attempted to pass, to learn why the driver failed to yield. The vehicle was pursued for over 2 miles before finally pulling over. When the driver was questioned, he presented the officer with a Nebraska ID card identifying him as Raul Pena. The officer determined the ID card was a forgery and the driver placed under arrest.
During a search of the suspect, another ID card was found that identified him as Antonio Gutierres. The felony charges were leveled against Gutierres after he was brought to the Taylor County Jail, and following an investigation into the false ID's. Gutierres was being held in the jail Friday evening. The vehicle was driving was impounded.