Cass County Board of Supervisors hear update on COG/COOP matters
November 1st, 2011 by Ric Hanson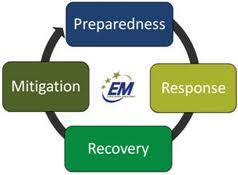 The Cass County Board of Supervisors, Monday were updated on the County's Continuity of Government (COG), and Continuity of Operations Plans. Rob Koppert, E-9-1-1 Coordinator and Assistant to Emergency Management Director Mike Kennon, explained why those plans are needed. He says both plans would spell out how government functions would continue, should members of the Board of Supervisors be wiped out in a disaster, and/or if any of the county's physical facilities are destroyed.  The initiative began a number of years ago, according to Koppert, but is only now beginning to take shape across the State.
Koppert says Mike Kennon has been working with the State Planner with regard to the COOP/COG plans, and it appears the Emergency Management Department is ready to move forward with plans to meet with County government officials to discuss those plans.  He says Kennon has a list of functions each entity in the County will need to discuss and prioritize, with regard to the plan. That includes the various County Department heads, who will determine the needs for each department, before a disaster strikes, so those items can quickly be acquired if needed.
Supervisor Chuck Rieken asked if Kennon wasn't "reinventing the wheel," when it comes to the COG/COOP Plans, because the State or other agencies have something similar in place. Koppert said there are templates available with which to guide the process, but the COG/COOP Plans for each county, would be County Specific. That would include where the County offices would set up operations if the courthouse were to be destroyed or damaged to the point where normal functions would be impossible.
The County is also required to develop such a plan, according to the Federal initiative ordered by a Presidential directive. The recent purchase and installation this past Spring, of a new 175 kilowatt Emergency Generator, is part of the County's COG plan.