AmericInn of Elk Horn Sends 112 Military Care Packages to Overseas Troops as Part of Veterans Day Salute
November 16th, 2011 by Jim Field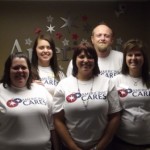 (Elk Horn, IA) November 16, 2011 – In a special tribute to American military troops, AmericInn of Elk Horn, IA shipped 112 care packages to soldiers serving overseas during a recent community event at the hotel coinciding with Veterans Day. The event was part of a nationwide Veterans Day initiative by AmericInn hotels resulting in the preparation and shipping of several thousand care packages to troops deployed in Afghanistan, Iraq and other bases worldwide.
AmericInn of Elk Horn had a great turn out for Operation Care Pack event on November 11th. The hotel packaged 112 boxes to send to the troops. AmericInn staff, Blue Star Mothers, local businesses, local organizations, and church members came to show their support and help with the event. In each box, the hotel packed snacks, hygiene products, soups, magazines, ceareal, and drink boxes.
"The participants in this initiative gave generously of their time, demonstrating inspiring and heartwarming support for members of America's military," said Jackie Wright, general manager of AmericInn of Elk Horn, IA. "We are proud to be part of this nationwide program by AmericInn expressing gratitude for the service of military members deployed overseas."
AmericInn hotels around the country reported that the gift box packing events attracted participation from a broad spectrum of citizens in their communities including many local businesses, student groups, Boy Scout and Girl Scout troops, church groups, retirees and even competing hotel employees. The Blue Star Mothers, a national troop support organization, also participated through local chapters.
AmericInn has sponsored several previous care package initiatives to support members of the military as part of an overall "AmericInn Cares" commitment to caring, involvement and patriotism.  AmericInn also offers a national discount to active duty and retired members of the military and their dependents. Military families can receive this discount by requesting the AmericInn Military Rate (rate code: MIL) when they make their reservation at a hotel, AmericInn.com or by calling the toll free telephone number 1-800-634-3444. A military I.D. is also required at check-in.