Local group gives new life to memorial flower bed
October 4th, 2011 by Ric Hanson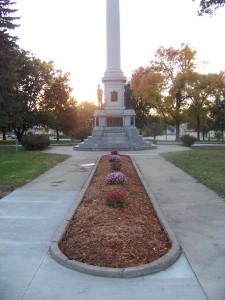 Staying true to their promise to the Cass County Board of Supervisors, a local organization, Monday evening was hard at work maintaining a flower bed near the Veteran's Memorial in the Atlantic City Park. Volunteers with the Trevor Frederickson Memorial Fund spruced up the area, which had been neglected over the years, for a variety of reasons.
Trevor Frederickson Memorial Fund spokesperson Melanie Petty says the group "Will be doing a lot more planting in the spring," but for now, they simply wanted to give the flower bed "Some fall color." Petty says a lot of people will be visiting Atlantic this weekend for HarvestFest and the Atlantic Firemen's Parade, and the group hopes their efforts will help welcome those visitors to the city.
During their meeting on September 21st, the Cass County Board of Supervisors were informed by Atlantic Parks and Recreation Department Director Roger Herring, that volunteers with Trevor Fredericksen Foundation would provide for the planting and care of the flower beds, if the Supervisors would agree not to remove them entirely, as part of a sidewalk rehabilitation project in the City Park, a portion of which is owned by the County.