Gov. Branstad/ Lt. Gov. Reynolds announce ten education town hall meetings
October 14th, 2011 by Ric Hanson
Iowa Governor Terry Branstad and Lt. Gov. Reynolds today (Friday), announced that they will hold ten more town hall meetings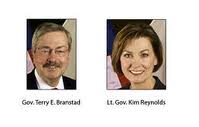 focusing on their education blueprint on October 24th, 25th and 26th. The announcement brings the total number of education transformation town hall meetings to 17, with more to be announced in the coming days.
In southwest Iowa, town hall meetings open to the public will be held on:
Tuesday, October 25th, 2011
11 a.m.          In the auditorium at the Mt. Ayr High School
1:30 p.m.      In the  Bedford Community High School
3 p.m.            In the Commons area at the Clarinda High School
5:30 p.m.      At The Wilson Preforming Arts Center in Red Oak.
Wednesday, October 26, 2011
9 a.m.            At the Creston High School
11 a.m.          In the Auditorium at the Nodaway Valley High School in  Greenfield.
For more information, please visit www.governor.iowa.gov