Cass County Supervisors approve redistricting and precincting plans
September 8th, 2011 by Ric Hanson
The Cass County Board of Supervisors Wednesday, approved a redistricting and re-precincting plan proposed by a three-member committee tasked with drafting it, based on the results of the 2010 Census. The committee, comprised of Sherry Toelle, Board Chair Duane McFadden, and Cass County Auditor Dale Sunderman, first met on June 22nd, to begin the process.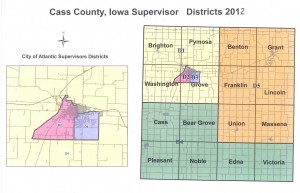 Under the new plan, which retains the five supervisor districts, Supervisor District 1 would include Districts 2 and 3 in the City of Atlantic, along with the Brighton, Grove, Pymosa, and Washington Townships. Supervisor District 4 includes the Cass, Bear Grove, Pleasant, Noble, Edna and Victoria Townships. And, Supervisor District 5 would include the Benton, Franklin, Grant, Lincoln, Union and Massena Townships.  It shifts around some townships, but Sunderman said the plan ultimately makes it more convenient for the voters. He says there were two different plans, but one made too many changes that would inconvenience the voters. The other was closest to the current district map. The new plan has District 5 comprised of six townships, instead of 5.
He said the committee had very strict guidelines and tight margins to deal with in creating the plan. They had to try and make sure there were 2, 791 persons in each district. He says they only had less than a one-percent margin to play with, according to the new rules which were established by the legislature. Sunderman says they tried to come up with a plan that would not split any of the precincts, which includes townships, cities, or city ward.
The Supervisors will hold two public hearings on an ordinance adopting the plan they approved Wednesday. The first takes place during their meeting on September 14th. The Board is expected to waive the third reading of the ordinance following a second public hearing and second reading, on September 21st.