Manure Management and Runoff Control Demonstration Planned for Aug. 26
August 24th, 2011 by Ric Hanson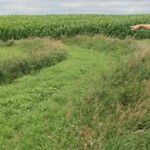 LEWIS, Iowa — Iowa State University Extension and Outreach is hosting a manure management and runoff control demonstration on Friday, Aug. 26, from 1-3 p.m. at the ISU Armstrong Research Farm located near Lewis, Iowa. The purpose of this demonstration is to review low-cost options for managing runoff water and manure from small to medium size beef and dairy feedlot operations.
"Small and medium size open feedlots can potentially discharge significant amounts of nutrients to streams," said Shawn Shouse, ISU Extension field agricultural engineer. "The nutrients can cause water quality problems in streams and present a loss of valuable fertilizer nutrients for the farm."
Recent compliance enforcement from both Department of Natural Resources (DNR) and Environmental Protection Agency (EPA) has put the focus on runoff from small to medium size feedlots. Iowa State has partnered with EPA, DNR and the Iowa Cattlemen's Association to look at feedlot control systems that will reduce runoff from feedlots and is more economically feasible to install for smaller feedlots.
This demonstration will look at a vegetated treatment area and pumping effluent into cropland as a possible low-cost handling option for feedlot runoff. According to Kris Kohl, ISU Extension field agricultural engineer, "Pumping effluent onto cropland is not a common practice in Iowa, but by doing so we can reduce the potential for nutrients to reach the stream and the effluent can provide nutrients and water to a growing crop."
In addition to the manure control options, the field day will also include information on manure production and nutrient content of feedlot manure, how to sample manure for nutrient analysis, stockpiling regulations and an update on rules for medium size operations as well as review of other types of manure control practices.
The ISU Armstrong Research Farm is located at 53020 Hitchcock Ave., Lewis, Iowa, 11 miles east of Oakland or 11 miles west of Atlantic on Hwy 6, then half mile south on 525th Street (M53) and half mile east on Hitchcock Avenue.