Jennifer Arp receives IHERF Scholarship
July 6th, 2011 by Ric Hanson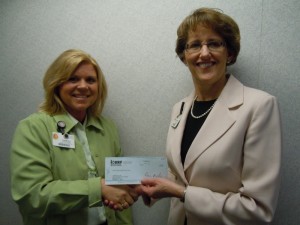 The Iowa Hospital Association's (IHA) Education and Research Foundation has awarded $96,000 in scholarships to 32 college students from all parts of Iowa.  Jennifer Arp of Massena, a registered nurse at Cass County Memorial Hospital, is one of the outstanding students from across the state who received a $3,000 scholarship. The students, who are all studying in health care fields, will also be eligible for up to $6,000 in assistance from the Iowa Hospital Education and Research Foundation (IHERF) over two years.
Jennifer currently works as the Quality Coordinator at CCMH, and is pursuing her Bachelor of Science in Nursing at the University of Phoenix.
IHA established the IHERF Health Care Careers Scholarship Program in 2004 to help address the ongoing shortage of health care professionals and encourage young Iowans to remain in the state as they establish their careers.  The first scholarships were awarded in 2005, and now 200 students have benefited from the program.  In exchange for financial support, scholarship-receiving students agree to work one year in an Iowa hospital for each year they receive an award.  Including these latest awards, the scholarship program has provided $600,000 in direct support to students since its inception.
IHA staff, the IHERF Board, hospital leaders and IHA Auxilian/Volunteer Board members from throughout the state evaluated scholarship applications from more than 130 students, who were judged on grade point average, a written personal statement, letters of reference, and extracurricular, community and healthcare-related activities.
This year's recipients include nurses seeking both graduate and undergraduate degrees as well as students in physical therapy, occupational therapy, ultrasound technology and physician assistant programs.