USDA Rural Development Hosting Rural-Issues Listening Posts in Elk Horn, Greenfield and Corning Tuesday, July 12th
June 27th, 2011 by Ric Hanson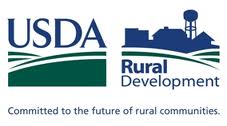 Bill Menner, USDA Rural Development State Director in Iowa, will be in Elk Horn, Greenfield and Corning on Tuesday, July 12th to listen to local community and economic development leaders, as well as the general public, discuss issues and opportunities they encounter in their ongoing efforts to keep rural Iowa vibrant and prosperous.
The sessions will take place at 9 a.m. at Elk Horn Town Hall, 4212 Main Street – Elk Horn, at 1:00 p.m. at Greenfield City Hall, 202 South 1st Street – Greenfield, and at 3:30 p.m. at the Adams County Fair Grounds in the Pavilion (north side of the 4-H Exhibit Building) – Corning. All three are open to the public.
In the last 10 years, 66 of Iowa's 99 counties have seen a population decline.  While rural communities and areas are home to 1.7 million Iowans, more than half of Iowa's nearly 950 cities now have fewer than 500 residents.
USDA Rural Development currently administers and manages more than 40 housing, business and community infrastructure and facility loan and grant programs designed to improve the economic stability of rural communities, businesses, residents, farmers and ranchers and improve the quality of life in rural America.
During the past year the agency helped a record number of Iowans receive funding for economic development projects and quality of life improvements. The agency's investment in Iowa helped create or retain more than 2,200 jobs, aided 2,500 families in buying their own homes and assisted more than 250 communities as they made improvements to their facilities, services and infrastructure.
What:   Rural-Issues Listening Posts – hosted by USDA Rural Development
When and Where:
Tuesday, July 12th
9:00 a.m. – Elk Horn Town Hall – 4212 Main Street – Elk Horn
1:00 p.m. – Greenfield City Hall, 202 South 1st Street – Greenfield
3:30 p.m. – Adams County Fair Grounds – The Pavilion – Corning
For more information about finance programs through USDA Rural Development, please call the office located in Atlantic at (712) 243-2107 Ext. 4. This office serves communities, businesses and residents in Adams, Audubon, Cass, Fremont, Harrison, Mills, Montgomery, Page, Pottawattamie, Shelby and Taylor Counties.
Further information on programs available through USDA Rural Development is available by visiting the agency's web site at www.rurdev.usda.gov/ia.