Gov. Terry E. Branstad orders flags at half-staff to honor Air Force Staff Sgt. Joseph J. Hamski
June 2nd, 2011 by Ric Hanson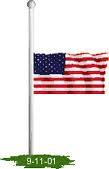 (DES MOINES) – Gov. Terry Branstad has ordered all flags in Iowa be flown at half-staff beginning at 8 a.m. on Friday, June 3, 2011 until 8 a.m. on Monday, June 6, 2011 in honor of 28-year old Air Force Staff Sgt. Joseph J. Hamski, who is formerly of Ottumwa.
Staff Sgt. Hamski was killed by an improvised explosive device last week in Afghanistan.
The Governor's directive applies to all U.S. and state flags under the control of the state.
Flags will be at half-staff on the State Capitol Building and on flag displays in the Capitol Complex, and upon all public buildings, grounds, and facilities throughout the state. Individuals, businesses, schools, municipalities, counties and other government subdivisions are encouraged to fly the flag at half-staff for the same length of time as a sign of respect.
Staff Sgt. Hamski is survived by his wife, Air Force Staff Sgt. Maria Christina Hamski; mother Marry Ellen Winston; sisters Jennifer Hensley, Nickole Friedman; and his brother Thomas Hamski. He will be laid to rest Saturday, June 4th.
The U.S. flag flown over the state capitol on the day of the funeral will be presented to Staff Sgt. Hamski's family at a later date, along with a proclamation honoring him.