Fire destroys farm tractor near Atlantic
June 27th, 2011 by Ric Hanson
No injuries were reported after a fire destroyed a farm tractor Monday afternoon, southwest of Atlantic. The call about the fire at 60435 585th Street came in at around 4-p.m.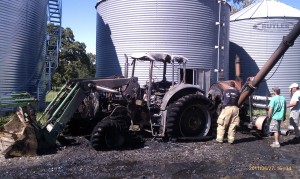 Atlantic Fire responded to the scene and found a John Deere 7520 tractor fully engulfed in flames. The tractor is owned by Bill Pellett, of Atlantic. Pellett told KJAN News Brett Pellett was cleaning out a grain bin with a vacuum/auger attachment on the rear of the tractor in preparation for the fall harvest, when flames erupted from the front end of the tractor.
Pellett said he thinks an electrical problem may be to blame for the fire.