Atlantic City Council approves Boulders agreement & incentives
June 16th, 2011 by Ric Hanson
After a public hearing as well as much discussion and explanation, the Atlantic City Council Wednesday evening, approved by a vote of 5-to1, a Resolution approving a development agreement between the City and Boulders Inn and Suites, for Tax Increment Payments and the pledging of certain tax increment revenues. The Council also passed a Resolution authorizing an internal advance and loan, to fund a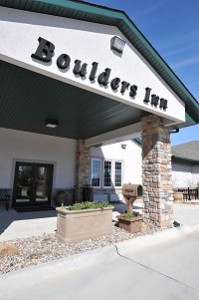 $125,000 incentive grant for the completed $1.5-million project on the City's west side. The hotel opened for business, last month.
City Administrator Doug Harris said the City couldn't offer the developer the same offer as last May, because it was based on a full tax assessment, rather than a partial assessment being in place as of January 1st. In addition, the City incurred additional legal costs associated with the delay. But in the end, he said the TIF savings to the City will amount to more than $48,000, and the tax rebates will be $41,000 spread out over nine years rather than $100,000 in four years.
During a public hearing on the Resolution, Atlantic resident, Dr. Keith Swanson said the reasoning behind the City paying an incentive after the hotel was finished, has not been fully explained and doesn't make any sense. He says he thought an incentive was given to bring a business to town, not something paid out after they have arrived and built a business. Councilman Shaun Shouse said the development agreement was reviewed and approved by the Finance Committee, who thought that it was in the best interests of both parties.
Councilman Kern Miller said the City shouldn't have to live up to its agreement, since Boulders' officials failed to sign the original agreement over the course of the past year. He said it also brings into question the council's judgment on this and other, similar matters.   Councilperson Kathy Somers said the City has an obligation to live up to its commitment, and failure to do so would set a bad precedence. Miller — who voted against the resolution — said he would agree, if the contract had been signed to begin with.