Amtrak Service to be Restored on Two Routes in the Western U.S. – Empire Builder, California Zephyr & Southwest Chief
June 15th, 2011 by Ric Hanson
AMES, Iowa – June 15, 2011; 2 p.m. – Amtrak services on two of three disrupted routes in the Western U.S. will be restored, starting this Wednesday, June 15. Passengers with questions about travel plans on these routes should call Amtrak at 800-USA-RAIL for additional information.
Empire Builder (Trains 7/27 & 8/28)
Amtrak service for the complete route will resume following BNSF Railway Co. track restorations between Devils Lake and Rugby, N.D., and between Sandpoint, Idaho, and Libby, Mont. This resumption is effective on Wednesday, June 15, with the originations of Train 8 from Seattle, Train 28 from Portland and Train 7/27 from Chicago.
California Zephyr (Trains 5 & 6)
Amtrak service for the complete route (except Omaha) will resume effective with the originations of Train 6 from the San Francisco Bay (Emeryville, Calif.) on Wednesday, June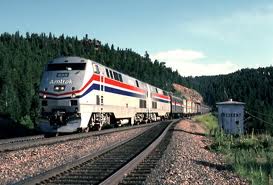 15, and Train 5 from Chicago on Thursday, June 16.
Because of temporary levees built over BNSF Railway Co. track to help protect the cities of Omaha and Bellevue, Neb., these trains will not directly serve Omaha, but alternate transportation will be provided between Lincoln and Omaha (eastbound, Train 6) and between Creston, Iowa, and Omaha (westbound, Train 5).
Southwest Chief (Trains 3 & 4)
Amtrak service remains temporarily suspended between Newton, Kan., and Albuquerque due to wildfires near BNSF Railway Co. tracks in New Mexico. Daily Southwest Chief service between Chicago and Los Angeles is maintained using a detour route through Texas and Oklahoma. Missed stops in western Kansas, southeastern Colorado and northeastern New Mexico will be served by chartered motorcoaches or local commuter trains, as available (except Trinidad, Colo., and Raton & Las Vegas, N.M.).
Also temporarily suspended are Amtrak Thruway Motorcoach Routes 8603 & 8604 between Raton and Denver, along with the Lamy (N.M.) Shuttle.
Amtrak regrets any inconvenience. This information is correct as of the above time and date. Information is subject to change as conditions warrant. Passengers are encouraged to call 800-USA-RAIL or visit Amtrak.com for schedule information and train status updates.