Severe weather weekend
May 22nd, 2011 by Ric Hanson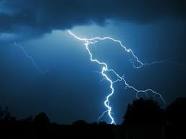 Severe weather this weekend brought large hail, strong winds and even a few tornados to the Midwest. Western Iowa was hit by the storms Saturday evening into late Saturday night, while the eastern half of the state was hit Sunday afternoon.
In southwest Iowa's Fremont County, quarter-sized hail was reported near Randolph Saturday, at around 6:55-p.m. About an hour an a-half later, golfball-sized hail was reported near Logan, in Harrison County, and penny- to quarter-sized hail fell near Harlan, and Defiance, in Shelby County.
After the first round of storms passed through the area, another round of hail, ranging in size from quarters to half-dollars pummeled Pottawattamie and Guthrie Counties at around 8:40-p.m. Thunderstorm wind damage was reported about three-miles west of Schleswig, in Crawford County, just after nine-p.m. Saturday, and a severe thunderstorm watch that was to have expired at around that time, was extended to midnight.
Large hail was also reported Saturday evening in eastern Nebraska and in northwest Iowa.
There were no reports of injuries.