Memorial Day events
May 30th, 2011 by Ric Hanson
The last Monday in May is Memorial Day, a day to remember those members of the military who have died in service to our nation. Memorial Day was officially proclaimed on May 5th 1868 by General John Logan, national commander of the Grand Army of the Republic, in his General Order #11, and was first observed on May 30th 1868, when flowers were placed on the graves of Union and Confederate soldiers at Arlington National Cemetery.  Locally, several events are planned to commemorate the day and those who have died. You can check out the complete list by surfing to our web page, www.kjan.com and clicking on the Daily Diary tab.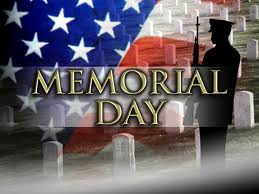 KJAN will continue a long Memorial Day tradition today, as we bring you a live broadcast of the Atlantic Memorial Day service.  The broadcast begins at 10:00 am from the Atlantic Cemetery.  This is the 150th anniversary of the Civil War and the featured speakers will be representatives of the Sons of Union Veterans of the Civil War.
A Memorial Day Service in Adair will be held at Sunnyhill Cemetery at 10:00 am.
The Anita Legion & Auxilary's Memorial Day Service will be held at Anita Evergreen Cemetery at 10:30 am., and the Anita Congregational United Church of Christ's "Decoration Day Dinner" will be held from 11-1 pm. Dinner includes: ham balls, baked potato with all the trimmings, corn, green beans, 2 salads, roll & homemade pie. Cost is $8 for adults and $4 for kids under 12. Take-outs are available by calling 712-249-2377 or 712-250-0307.
Memorial Day Services will be held in the Arlington Cemetery in Audubon at 10 am.
American Legion Post 322 in Elk Horn's Memorial Day Schedule is as follows: 9:30 am at the Clay Township cemetery; 10:00 am at Monroe Methodist cemetery; 11:00 am Church Service At Elk Horn Lutheran Church followed by Military Service at the Elk Horn Lutheran Cemetery, with dinner following at the church fellowship hall, for a free will offering.
Exira's Memorial Day Service will start at 9:45 am, at the Exira Catholic Cemetery, St. John's West and at Nishnabotna River in honor of the navy following the main program. In case of rain services will be held at Exira Recreation Center.
The Exira Lions Memorial Day Breakfast will be held on May 30th from 7-12:30 pm at the Lions Community Center. They are serving pancakes, biscuits & gravy, eggs, sausage and drink for a free will donation.
The Grant United Methodist Church will hold its annual Memorial Day Dinner from 11:30 am-1 pm on May 30th with a free-will offering. The menu includes: sloppy joe or ham sandwich, baked beans, assorted salads, pies and desserts, and offee, tea or lemonade. All money raised by the dinner supports the Grant United Methodist Women and their work for mission projects at the Grant church. Students in Time to Create will have a fundraising sale of homemade snack mix in decorative tins. Proceeds will benefit the program and its mission projects. From 1-4 pm, Jim and Kathy Wymore will host a jam session, and interested musicians can sign up at the event and a full size Circle of Stars quilt will be auctioned off around 2:30 pm.  Attendees should bring lawn chairs; a port-a-potty will be on site and there will be a concession stand. In case of rain, the event will be held at the Grant United Methodist Church. Proceeds from this event will benefit GCP and its work on the Grant Masonic Lodge and Grant Park. Everyone is welcome to attend.
Memorial Day Services in Griswold will be held at the Griswold Cemetery at 10:00 am. There will be  a P-51 Mustang fly over with guest speaker Father David Smith. A smaller service will be held at Pleasant Cemetery immediately following the service at Griswold Cemetery.
Join the Lewis Town & Country Boosters and the Pancake Man for a breakfast of pancakes & sausages, juice and coffee. Serving is from 7:30-10:30 am at the Lewis Community Center for a free will donation.
Montgomery County Veterans Court of Honor Memorial Day Program will be held at the Evergreen Cemetery in Red Oak. Program will include music by Red Oak High School Band, dedication of 30 burial flags to join the over 1300 flags that will be flying around the Evergreen Cemetery that day, a rifle salute and guest speaker, Lieutenant Colonel Joni Ernst, Iowa Army National Guard.
Elsewhere around southwest Iowa, Memorial Day services will be held today:
10:00 am at the Clarinda Cemetery at the Tomb of the Unknown Soldier.
10:00 am at the Stanton High School gym.
10:00 am at the Inman Primary School Parking lot in Red Oak.
10:30 am at the Rose Hill Cemetery in Shenandoah.
10:30 am at the Sidney Cemetery.