Fareway parking lot accident
May 26th, 2011 by Ric Hanson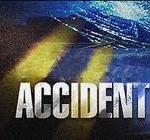 An Atlantic teen received a warning for striking an unattended vehicle in the Fareway parking lot Wednesday evening, in Atlantic. Alex Tarr was warned after her vehicle struck a car in a parking stall, as Tarr was attempted to park.
Atlantic Police say Tarr pulled into a parking stall next to a vehicle registered to Julie St. John, of Atlantic.  She hit St. John's vehicle as the teenager was backing-up while trying to get into her parking stall, at a better angle.
Damage from the mishap, which happened at around 5:20-p.m., amounted to $1,500.