Enter the Iowa Egg Council's Decorated Egg Contest!
May 26th, 2011 by Ric Hanson
URBANDALE, IA, May 25, 2011 – The Iowa Egg Council would like to invite all Iowa
residents to enter the 13th annual Iowa State Fair Egg Decorating contest. The
contest will be held at the Iowa State Fair on Friday, August 12th, 2011. This
contest is a great opportunity for contestants to showcase their artistic abilities.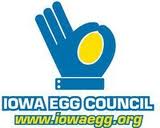 Each egg will be judged based off The Design, Artistic Merit, Creativity, Technical
Merit, and Effective use of the Egg. Any art medium may be used, and creativity is
encouraged. The egg must be a standard large-size chicken egg, and must be
freestanding without an attached base, stand, or decoration on the bottom.
"One change to this year's contest is we are opening up the "design" aspect to any
design. In the past, artists have been encouraged to focus on an Iowa theme. This
year we have decided to expand the possibilities here," said IEC Executive Director
Kevin Vinchattle.
This year's awards will include a first place prize of $500, a second place prize of
$400, and a third place prize of $300. Following the contest, all of the decorated
egg entries will be on display throughout the year at Iowa libraries.
To enter the contest, request an entry form and complete list of rules by calling
the Iowa Egg Council toll-free at 1-877-469-2344 ext. 11, or by accessing the form
from our website at www.iowaegg.org. All entry forms must be received by July 22,
2011. Good luck!