Danish Immigrant Museum to waive admission fee May 14th
May 4th, 2011 by Ric Hanson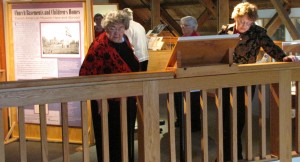 Governor Terry Branstad has proclaimed Saturday, May 14, 2011 as Iowa Museum Day, and the Danish Immigrant Museum will participate in the state-wide celebration by waiving its admission fee for all visitors that day.
The Danish Immigrant Museum has 9 full-time and 4 part-time employees.  They also have a well-respected internship program, hosting students from Denmark as well as the U.S.  The museum has approximately 2,500 hundred members from across the country and 6 foreign countries and a volunteer base of nearly 100.  The museum's collection of artifacts is nearing 35,000 pieces.
Governor Branstad has recognized the importance of Iowa's museums in his proclamation, stating that Iowa Museum Day will celebrate the crucial role of Iowa's museums in preserving the historical fabric and memory of our state through preservation of artifacts and archives; in providing educational resources and programs which expand learning opportunities for all ages; in contributing to a vibrant community and state economy through job creation, purchase of goods and services, and by attracting tourism revenue to the community and state; and in their significant role in enhancing community quality of life.
Iowa's museums are supported in their missions by the Iowa Museum Association, a statewide association of museums.  Its mission is to provide quality training and development to Iowa museum professionals and volunteers, advocate for support of Iowa's museums, and build a strong community of museums and museum supporters in Iowa.
The Danish Immigrant Museum is located at 2212 Washington Street, Elk Horn, Iowa.  For more information, please call The Danish Immigrant Museum, 712.764.7001 or visit their website at www.danishmuseum.org