Avoca Veteran's Monument Dedication on Monday
May 28th, 2011 by Ric Hanson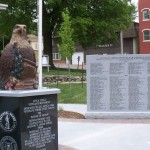 Among the Memorial Day activities taking place around the Nishna Valley on Monday, is the dedication in Avoca, of the Veteran's Monument, at 2-p.m.. The monument is a part of the Pottawattamie County Eagle Project, and includes a "Pledge of Honor." Organizers say its designed to recognize those who have served and those who will serve.
Neola artist Russell Christensen was commissioned to design and create the bronze eagle sculpture series to serve as veterans' memorials in Avoca and 11 other communities in Pottawattamie County. Each community raised $25,000 to help pay for the statue, which stands about 36-inches tall and is perched on a granite pedestal. The effort to bring the bronze eagle to Avoca began with the formation of a committee, in May of 2006.
The Veterans' Plaza dedication ceremony will take place in downtown Avoca next to the courthouse. The ceremony begins at 1:30 p.m. with the USAF Heartland of America Brass Quartet and a community chorus, followed by a 2 p.m. dedication. Among the guest speakers them is Darlene McMartin, Administrator for Pottawattamie County Veterans Affairs.
The ceremony will also include the presentation of the veterans' plaza to the City of Avoca, and a 21 gun salute by American Legion Post 227, and the playing of "Taps," by an Air Force bugler.
Officials say they expect a crowd of over 400 people to be in attendance. Following the Veteran's Monument dedication, everyone is invited to attend a reception at the Avoca Legion Hall.