Bridge maintenance work on U.S. 30 near Missouri Valley scheduled for June 6, 7 and 8
May 26th, 2011 by Ric Hanson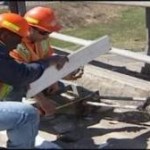 The Iowa DOT's Council Bluffs construction office says bridge maintenance work will cause traffic to be restricted to one-lane on U-S Highway 30 in two locations near Missouri Valley, beginning June 6th, weather permitting.
Officials say work will commence on the Highway 30 bridge from Missouri Valley west seven-miles, to Harrison County Road K-45, on Monday, June 6th, and continue through Tuesday, June 7th.
Work on the Highway 30 bridge from the intersection with Interstate 29 near Missouri Valley east, to Harrison County Road F-58, will be performed on June 7th and 8th.
While the work is underway, flaggers will be used to assist traffic through the work zone. Normal driving conditions will resume, when the workers on not on the job site.