AREA COUNTIES: CRAWFORD-CARROLL-AUDUBON-GUTHRIE-DALLAS-MADISON-
WINTER WEATHER ADVISORY IN EFFECT FROM MIDNIGHT TONIGHT TO 8 AM CST TUESDAY…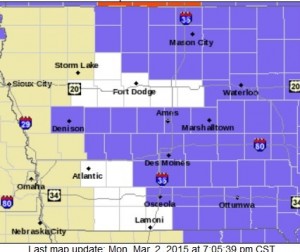 THE NATIONAL WEATHER SERVICE IN DES MOINES HAS ISSUED A WINTER WEATHER ADVISORY FOR LIGHT FREEZING RAIN…SLEET OR SNOW…WHICH IS IN EFFECT FROM MIDNIGHT TONIGHT TO 8 AM CST TUESDAY.
* TIMING…INTERMITTENT LIGHT FREEZING RAIN…SLEET AND SNOW ARE ANTICIPATED EARLY TUESDAY MORNING BEFORE TRANSITIONING TO MAINLY LIGHT RAIN OR DRIZZLE SHORTLY AFTER DAYBREAK. THE PRECIPITATION TYPE MAY BE QUITE VARIABLE FROM TIME TO TIME.
* STORM TOTAL SNOW/ICE ACCUMULATIONS…SNOW ACCUMULATIONS WILL VARY FROM LITTLE TO NONE TOWARD THE MISSOURI BORDER…TO LESS THAN AN INCH FARTHER NORTH TOWARD HIGHWAY 30. ANY ICE ACCUMULATIONS WILL BE MINOR…ONLY A FEW HUNDRETHS OF AN INCH AT WORST.
* IMPACTS…ALTHOUGH ONLY MINOR ICE AND SNOW ACCUMULATIONS ARE ANTICIPATED…THE WINTRY MIX MAY PRODUCE HAZARDOUS TRAVEL EARLY TUESDAY…INCLUDING THE MORNING COMMUTE.
PRECAUTIONARY/PREPAREDNESS ACTIONS…
A WINTER WEATHER ADVISORY MEANS THAT PERIODS OF SNOW…SLEET…OR FREEZING RAIN WILL CAUSE TRAVEL DIFFICULTIES. BE PREPARED FOR SLIPPERY ROADS AND LIMITED VISIBILITIES…AND USE CAUTION WHILE DRIVING.