FESTIVE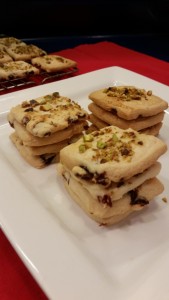 CRANBERRY SHORTBREAD—recipe adapted from bakeorbreak.com
Ingredients:
10 T. unsalted butter, room temperature
1/3 c. granulated sugar
½ t. almond OR vanilla extract
½ t. salt
1-1/2 c. all-purpose flour
1/3 c. dried cranberries
Garnish (optional):
2 T. chopped pistachios
1 egg white
1 t. water
Method:
Using an electric mixer on medium speed, beat together butter and sugar. Add extract and salt. Slowly add flour and mix until incorporated. Add cranberries and mix until a smooth dough is formed. Place dough on a sheet of plastic wrap and completely cover loosely with the wrap. Shape dough into a disc. As the dough is shaped into a disc, keep plastic wrap as a barrier between your fingers and the dough. (Plastic wrap is a great aid for the shaping process to prevent direct contact with the warmth of your fingers.) Refrigerate for about 30 minutes. Preheat oven to 325 degrees Fahrenheit. Line baking sheets with parchment paper or silicone liners. Roll out dough to a 10-inch square, about ¼ inch thick. Using a sharp knife or pizza wheel, cut dough into 2-inch squares. Carefully transfer squares to baking sheets. If applying the optional garnish: whisk together egg white and water. Lightly brush this mixture over top of each cookie square. Sprinkle chopped pistachios over the top, gently pressing them into the dough. Bake for 22-25 minutes, or until lightly browned. Cool on pans for about 5 minutes. Then, transfer to wire racks to cool completely.
Yields: 25, 2-inch cookies
Miss NiNi
NOTE FROM Miss NiNi: Shortbread is a baker's dream because it takes so few ingredients to create a cookie that offers such amazing accolades of praise from those enjoying each bite! I garnished my cookies with pistachios for extra crunch and color. I used chopped roasted and salted pistachios for an extra "kick." You may prefer pistachios right from the shell without the extra salty flavor. For a more homespun look, use fingers to pat dough into a 10-inch square rather than roll dough with a rolling pin. At about the 10-minute baking point, a rich aroma of baked butter and sugar begins to delight the senses! Red cranberries and optional green chopped pistachios add a festive fuss on a holiday cookie tray. Joy to the cookie world!
Podcast: Play in new window | Download (7.2MB)